Cricket chief Thilanga Sumathipala may go for an early election to hand administration over to a 'capable' leader but a court ruling last week suggests he has no legal right to hold office even now.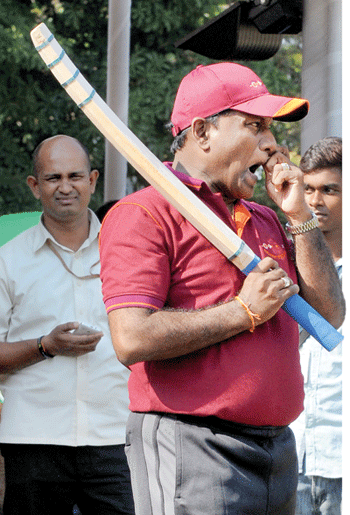 During cross-examination in his defamation case against former World Cup winning skipper turned politician Arjuna Ranatunga, Mr Sumathipala admitted to his family's direct involvement in the business of gaming. This is a clear violation of the Sports Regulations and Code of Ethics of the International Cricket Council (ICC).
Mr Sumathipala filed a case saying Mr Ranatunga had made defamatory statements during a press conference in the run-up to the 2003 Cricket Board elections. After a lengthy proceedings, the case was dismissed by the Nugegoda District Court on August 24.
Page 13 of the ruling observes that Mr Sumathipala, the petitioner, expended much effort to avoid admitting that he was connected to the business of betting. This became evident in cross-examination. "However, the petitioner accepted with great difficulty that a well-known race [betting] business by the name of Sporting Star was in operation all over Sri Lanka and that it was run under the name of U W Sumathipala and Sons and that 'Sons' pertained to himself and his brother," the ruling states. "When his connection to it was questioned, the petitioner stated that his only business was that of a printing concern."
"In further cross-examination, he has admitted that Sporting Star carried out the business of betting and that the petitioner and his family were openly involved in the business," the ruling says.
Mr Sumathipala has repeatedly denied involvement in the gaming industry but it was well-known that his family owned Sporting Star, a leading betting company. Mr Ranatunga managed to establish Mr Sumathipala's connection with the business in court, thus making him ineligible to hold office in national sports bodies under the National Associations of Sports Regulations No. 1 of 2016.
Section 5(4) (n) cites: "A person shall be disqualified from being elected or otherwise to hold or continue to hold any paid or unpaid office or to hold any paid or unpaid post or to be a member of a Committee of any National Association of Sports or to be nominee of an affiliated club or organisation in a National Association of Sports, if he is directly or indirectly involved in carrying out the business of gaming, betting or wagering.
The International Cricket Council also has strict regulations when it comes to the gaming industry and those elected to govern comes under ICC's Code of Conduct.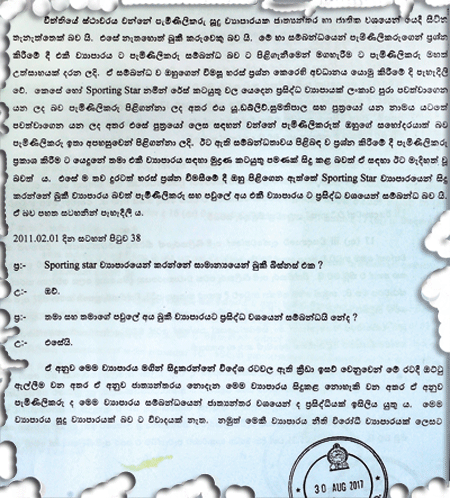 "It is not permitted and a Director shall be in breach of this Code if a member of his immediate family (being a spouse, parent, sibling, son or daughter) has a controlling interest in a betting business, a substantial relationship with a betting business or is employed in the day to day operational control of a betting business," Section 7.29(d) of the Code of Ethics under Betting, Gaming or Gambling states.
As regards his involvement in the gaming industry, Mr Sumathipala has managed to fend off the charge several times before by submitting a letter claiming he wasn't involved in family's gaming business. However, in 2013, his nomination for the Cricket Board election was rejected on the same grounds.
Pressure, from certain quarters, is mounting on Mr Sumathipala to resign, with the participation of the national team in the World Cup 2019 now at risk. He has reportedly told the Cricket Board ExCo of his intention to go for an early election, possibly at the end of this year.
At an Emergency ExCo held on Wednesday, Mr Sumathipala indicated his willingness to step down. But a majority of members have suggested he should remain until the end of his term. To this, he has replied he did not want to continue till May next year when elections were due. He said he will go for an early election after consulting the Minister of Sports.
But just last week Mr Sumathipala was quoted as saying he would not step down as the administration is not at fault for the team's poor showing. This was after Mr Ranatunga wrote to both President Maithipala Sirisena and Prime Minister Ranil Wickremasinghe asking them to intervene in putting Sri Lanka's cricket back on track by sacking the Sumathipala administration and appointing an interim committee.