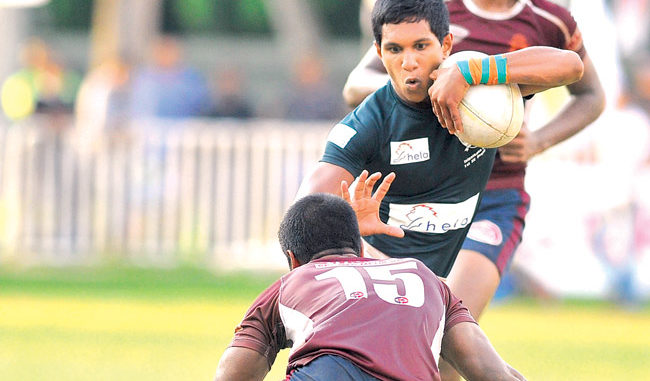 By Shamseer Jaleel
Former Isipathana fullback and current CR&FC player Chamod Fernando was awarded the Schoolboy Rugby Player of the Year award at the Singer Rugby Awards for 2017 which took place last week at Bishop's College Auditorium last week.
Singer has been propping up school rugby for more than two decades, enabling the production of many top-class school rugby players who have matured and represented the country later on. School rugby in Sri Lanka is extremely strong at the Asian level and needs to be natured in a proper way for the future of the sport in the country.
Royal Colombo won the cup while St. Anthony's College, Katugastota accounted for the Plate.
Chubby Aabid Cader of St. Anthony's College Mount Lavinia was judged the Most Popular Schools' Rugby Player while his team was named the Most Popular Schools' Rugby Team of the Year 2017.
Royal College player Hamza Reza won the Top Try Scorer award. The Best Place Kicker award went to Zahira College's kicking sensation Zaid Singhawansa.
The battle for the schoolboy rugby player of the year award saw a close contest between Avishka Lee (Wesley), Aveesha Priyankara (Trinity), Hamza Reza (Royal) and Chamod Fernando (Isipathana). In the end Fernando bagged the title.
Division III
Division III Segment 1B: Runner-up – Panduwasnuwara MV Panduwasnuwara
Division III Segment 1B: Champions – Sir John Kothalawala MV Kurunegala
Division III Segment 2A: Runner-up – Mahanama Navodya MV Panadura
Division III Segment 2A: Champions – Thomas' Preparatory School
Division III Segment 1A: Runner-up – Dehiovita National School Dehiovita
Division III Segment 1A: Champions – Ruwanwella Central College
Division II
Division II – Plate Championship – Runner-up – Vidyaloka MV Galle
Division II – Plate Championship – Champions – Sri Rahula College Katugastota
Division II – Cup Championship   – Runner-up – Carey College Colombo
Division II – Cup Championship – Champions – Anne's College Kurunegala
Division I
Division I – Shield Championship – Runner-up – Nalanda College Colombo
Division I – Shield Championship – Champions – Aloysius's College Galle
Division I – Bowl Championship – Runner-up – Maliyadeva College Kurunegala
Division I – Bowl Championship – Champions – Ananda College Colombo
Division I – Plate Championship – Runner-up – Dharmaraja College Kandy
Division I – Plate Championship – Champions – Anthony's College Kandy
Division I – Cup Championship – Runner-up – Isipathana College
Division I – Cup Championship – Champions – Royal College
Singer Most Popular Schools' Rugby Team of the Year 2017: S. Thomas' College Mount Lavinia
Singer Most Popular School Boy Rugby Player of the Year 2017: Aabid Cader of S. Thomas' College Mount Lavinia
Singer Schools' Rugby League 2017 – Best Place Kicker: Zaid Sinhawansa, Zahira College Maradana
Singer Schools' Rugby League 2017 – Highest Try Scorer of the Year 2017: Hamza Reeza of Royal College Colombo
Singer League 2017 – School Boy Ruggerite of the Year 2017: Chamod Fernando – Isipathana College
www.ft.lk