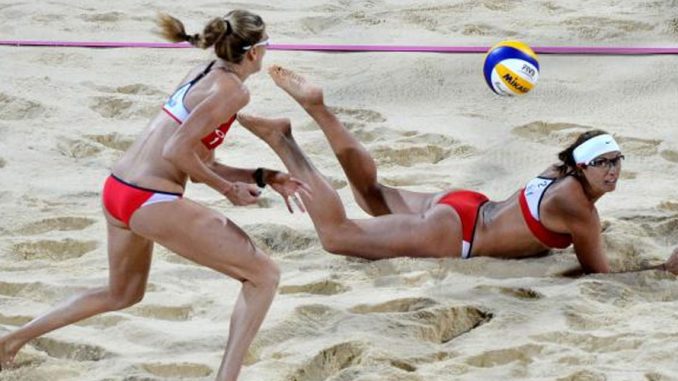 America's Misty May-Treanor and Kerri Walsh Jennings made Olympic history on Wednesday when they defeated compatriots Jen Kessy and April Ross to claim their third consecutive beach volleyball title.
Watched by a crowd of 15,000 at London's Horse Guards Parade, which included Prince Harry and David Beckham, the All-American final saw May-Treanor and Walsh Jennings prevail in straight sets, 21-16, 21-16.
May-Treanor and Walsh Jennings have never been beaten in three Olympic tournaments and have dropped just one set in that time, in a 2-1 pool phase win against Austrian sisters Doris and Stefanie Schwaiger last week.
Sixth seeds Kessy and Ross had eliminated Brazilian favourites Juliana Silva and Larissa Franca in the semi-finals, but they had to make do with silver as May-Treanor, 35, brought the curtain down on her career in style.
It was a third consecutive 2-0 Olympic final win for May-Treanor and Walsh Jennings, who took gold for the first time in Athens in 2004 before defending their crown four years later in Beijing.
Beach volleyball was introduced to the Olympics in 1996 and May-Treanor and Walsh Jennings are the only pair to have successfully defended a women's title.
After a tight start to the first set, May-Treanor and Walsh Jennings pulled away and secured a one-set advantage when Kessy could only deflect the ball out of play as she attempted to tee up Ross.
Third seeds May-Treanor and Walsh Jennings ground out a three-point advantage in the second set and claimed their third title when Ross sent a serve long on the second match point.
Earlier, Juliana and Larissa came back from the brink to beat China's Zhang Xi and Xue Chen in the bronze medal match.
The top-seeded Brazilian pair initially conceded the initiative to Zhang and Xue, and found themselves a set down at a sun-splashed Horse Guards Parade.
Bronze medallists in Beijing four years ago, the Chinese duo closed to within two points of victory by going 19-16 up in the second set, but Brazil fought back to level the match and then prevailed 15-12 in the decider.
– AFP/de